The Leadership of South China University of Technology Press Visited HUSTP
发表时间:2018-03-10 发表人:International Cooperation Department
On March 9th, 2018, the leadership of South China University of Technology Press, president and chief editor Lu Jiaming, general secretary and vice president Ke Ning, president assistant and office administrator Zhuang Yan visited our company. After a visit to our company's new office building, they went to the conference room on the first floor for talks with president Ruan Haihong, secretary of the party committee Fu Rong, chief editor Jiang Xinqi and the people in charge of the project.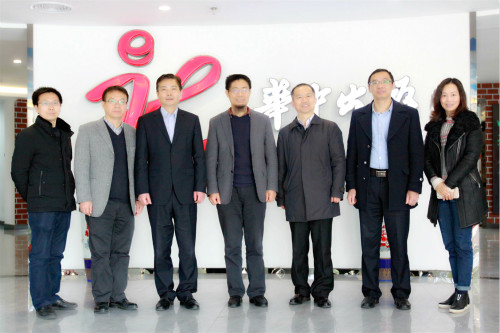 Lu Jiaming highly evaluated and affirmed our company's fresh and elegant office environment. Our company's leadership welcomed the arrival of their group, introduced in detail the scale, management ideas, guidelines and key projects of HUSTP, exchanging and communicating on questions raised by the visitors.
Ruan Haihong said, the survival of the fittest is the law of market competition. If enterprises want to develop, they should seek resources in the market. Jiang Xinqi made a deep exchange with the visitors in the performance assessment, management of and reward to major projects' application, etc. Fu Rong also communicated with the visitors in system orientation, working mechanism and cadre management of university presses, etc. at the meeting.